Posted on April 17, 2017 by The VRG Blog Editor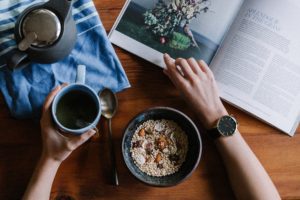 By Anna Lam
Some college students are intimidated by the logistics of eating a vegan diet while studying at a university. After all, the typical Western diet, and particularly that of Americans, has tended to emphasize meat as centerpiece items to a proper meal. I've even heard people express the sentiment that you're not eating a meal unless there's meat in it. However, with vegetarianism on the rise in recent decades, I'm here to say that eating only plants has never been easier, and can be accomplished by the vast majority. As a vegan college student myself, I've experienced no problems since making the switch. With the help of abundant online resources, some great vegan friends, and a minimal college budget, it's been entirely possible for me to sustain this diet and stay focused on my studies.
If you're concerned about cost, cheap and healthy staples for myself include: bulk purchases of grains such as whole rolled oats, brown or white rice; canned or dried beans such as black beans, pinto beans, chickpeas, and lentils; vegetables such as potatoes, carrots, leafy greens, and cruciferous vegetables; frozen vegetables like peas, collard greens, or vegetable medleys; and fruits like bananas, oranges, and melons.
Interested in comparing my palate with those of other college vegans, I surveyed my peers from the university vegetarian club, as well as a Facebook group dedicated to discussing vegan food. I asked both group members to say what their favorite vegan foods to eat in college were, and I've arranged a list below of the top 10 foods according to popularity.
1. Potatoes (including sweet potatoes)
2. Avocados
3. Tempeh
4. Hummus
5. Vegetarian sushi
6. Toast with various toppings (nut butters, fruits, avocados, etc.)
7. Oatmeal
8. Burritos
9. Chickpeas
10. Nachos
Some honorable mentions include vegetable curries and fried rice, tofu, pad Thai, non-dairy ice-cream, and date bars. Popular restaurants were Chipotle and Qdoba.
So, as you can see, there are bountiful options for the college student considering a vegan, or even more plant-based, lifestyle. So pop some potatoes in the oven, grab a pint of non-dairy ice-cream from your local supermarket, and enjoy your college years with plenty of cruelty-free foods.
Also see:
http://www.vrg.org/journal/vj2013issue1/2013_issue1_college_survey.php
http://www.vrg.org/vote/index.php