Posted on April 27, 2017 by The VRG Blog Editor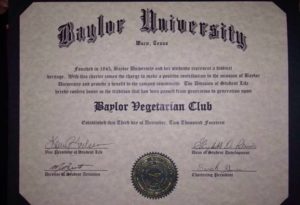 By Anna Lam
Sarah Guerra recalls the time when sitting in her environmental science professor's office (after going over a test) the idea first came into her mind to create the Baylor Vegetarian Club. A vegetarian himself, Dr. Bruce Hudson mentioned to Sarah that he hadn't heard of many other vegetarians at Baylor. When Sarah said she'd met a few before, she was startled when Dr. Hudson cheerily suggested that she start a club for vegetarians. Not taking it too seriously at the time, she didn't dream that she'd go on to found not only the Vegetarian Club, but also the Baylor Stream Team, a group that monitors the water quality of Texas streams.
 
When another professor encouraged her to take the reins for these organizations, Guerra says she was terrified. "I was unsure of myself as a leader…but I got the papers anyway." It was with the encouragement of her professors and peers that Guerra was able to build the organization from the ground up. "I never dreamed that I would be the founder of an organization, much less two, but I am forever grateful for those instructors who influenced me to get out of my comfort zone and start these clubs." Guerra went on to graduate from Baylor in May of 2016, with a degree in Environmental Science, and is now working towards her Texas Master Naturalist certificate.
 
I got the opportunity to discuss her experience starting the club, and asked her about advice she had for those looking to start clubs in their own schools in the following conversation:
 
Q. What advice would you have for someone at a different college who wanted to start a club?
 
Sarah: If you're interested in starting a vegetarian club at your school, first of all I want to say Yes! Go for it!!! The process will probably be different depending on your school, but whether you think you'll have 50 members or just 5, starting a vegetarian club really is worth it and surely will benefit however many members there are (especially if you're in an area where it's uncommon). Having a welcoming community with like-minded people is sometimes what a vegetarian or vegan really needs to stick with it. So I think your first step would be to check with your university's student activities office to see what you can do to get a Veg Club going at your school. 
My other advice would be to utilize your resources, develop strong networking skills, and take advantage of recruitment opportunities. Originally what I hoped the purpose of this organization would be, in addition to providing a welcoming community, was to allow the campus and even city to realize that this vegetarian/vegan community existed so that local restaurants and the campus dining halls could accommodate.
By utilizing resources and building networking skills, I mean that you should see what your school and surrounding city has to offer to make your club a success. For example, I reached out to the campus nutritionist the first semester that the club was active and she's helped us and is a guest speaker at meetings each semester now. Also, see if any local restaurants are interested in fundraising with your club or want to be guest speakers at a meeting to advertise their veg-friendly menu.
Another example is when I was at a tabling event and the VP of student activities came up to discuss the club with me and connected me with the head of the Dining Hall Advisory Board, where I was able to be a voice for vegetarians and vegans. I also met the current president of the club, Taylor McCants, while on this board. So see if your school has a dining hall committee so that a member can sit in and represent. And never miss a recruitment opportunity!
Social media is a great advertising tool—we've gotten members because they found us on sites such as Facebook, Instagram, and even YikYak. Tabling events, flyers, and sidewalk chalk are important because they get the club's name out there, but we've gotten plenty of members who have heard about the club from a friend, so never underestimate the power in word of mouth. But that conversation won't happen unless you get your club name out there as much as you can.
 
Q. What do you think was the ultimate thing you gained from the experience?
 
Sarah: The ultimate thing I gained from starting a vegetarian club definitely has to be learning more about being a vegetarian in my city and state because of the members' insight and wisdom. When I started the club I had been vegetarian for five years already, had been living in Waco, Texas for about two and a half years, and Texas all my life. But I had no idea that there was a local pizzeria (Poppa Rollos) that sold vegan pizza; I had never heard of Drug Emporium, this magnificent store in Waco that sells so many meat and dairy substitutes; and I had never heard of the veg fests that take place in Dallas and Austin every year, to name a few. Meeting other vegetarians and vegans through the club gave me a new perspective on how to be a vegetarian, and that's just one of the many reasons I value the club so much.
 
For more information on starting clubs and activism on campus, see:
http://www.vrg.org/teen/
http://www.vrg.org/teen/#college