Posted on May 14, 2012 by The VRG Blog Editor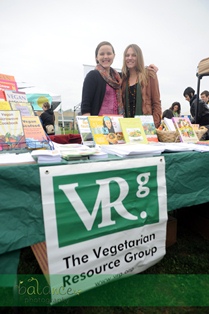 By Mary Herbranson
VRG Catalog Manager/Outreach Coordinator
On Saturday April 28th, a partly sunny day with peering rain clouds in the sky, the UMBC Vegetarian's club and The Humane League hosted the second annual Baltimore VegFest on UMBC's campus in Arbutus, Maryland- just 10 minutes south of Baltimore. It was clear any threat of wet weather couldn't hold back vegetarians, vegans, and the merely curious from this free community event. With 65+ exhibitors made up of a combination of non-profits and green-minded commercial vendors there was no shortage of compassionate causes to learn from. The crowds gathered information and giveaways while working up appetites for the 100% vegan food vendors. Veteran volunteer, Dorothy Kenny, intern Amanda Matte, and I watched with watery taste buds as folks walked by with filling falafel wraps, delectable Indian Cuisine, sweet treats like cookies and fudge and much more. Before long I was in the line for fresh-pressed juice from Zia's Café – a treat we could enjoy while engaging with the friendly individuals who dropped by our booth.
Long time members from Frederick, Maryland came by to check out our newest publication, Vegans Know How to Party, a couple from Easton, Maryland wanted resources to give local restaurants to encourage them to offer vegan options which are scarce in their 'meat & potatoes' town, a registered dietitian came by to give us her contact information to add to our referral database and to see what volunteer opportunities are available for her to work on from home, and college students gave their input on the status of vegan options from their campus food service and picked up bumper stickers, magazines, and coloring books to use as a reprieve from seemingly endless finals cramming.
We were situated within eye's view of the main stage, where we caught parts of Erica Meier's (Executive Director for Compassion of Killing) animated presentation and our attention was drawn again by the chuckles roused from Ben Shaberman's reading from his collection of essays, The Vegan Monologues– which we sell at our outreach tables and is available in our bookstore. Throughout the event live music, cooking demonstrations and announcements from the raffles filled the air. As with most veg fests there was something for all ages and the festival guests were most appreciative! My cousin brought his two young ones, Mia age 6-almost-7 and Matthew age 4, who with smiles passed out magazines and brochures to passersby…really who can refuse a tiny blonde haired, blue eyed kid? With their help we passed out 500 copies of Vegetarian Journal and every hand in site carried VRG handouts and we had lots of inquiries about our website and how to become a member of the organization.
The time flew by and before we knew it, we were wrapping up what few materials were left and carrying boxes to the car. Fortune placed us tabling next to Land of Kush, and I was sure to buy some satisfying vegan soul food to offer to my cousin's family as a thank you for their support of our outreach efforts. Dorothy went the extra mile and coordinated the effort with food vendors to personally collect remainder trays of food and samples to donate to a local food shelter.
We're grateful for the artful skills of Balance Photography in Catonsville, Maryland. They were generous enough to share some stellar shots from the event! For more information: email balancephotography@gmail.com or visit, http://www.balancephotography.net
Check out Rissa & Nathaniel's vegan blog: http://www.dirtyhippiebohemiangirl.com
We were thrilled with the opportunity to participate in this local vegan festival and hope the future brings many more!
If you are interested in volunteering at a booth like this, please e-mail vrg@vrg.org.
For a list of other ways to volunteer and get involved with the VRG, please visit http://www.vrg.org/getinvolved.php.
Donations from individuals like you help VRG continue to sponsor outreach booths like the one mentioned above. To donate, please go to http://www.vrg.org/donate.