Vegan Nutrition in Pregnancy and Childhood Brochure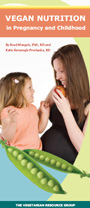 Vegan Nutrition in Pregnancy and Childhood is a new full-color, 12-panel brochure that contains a wealth of information for parents and parents-to-be. It covers basic nutritional needs during pregnancy, during breastfeeding, for infants, and for toddlers through school-aged children. Also included are a sample meal plan for vegan pregnancy, a feeding schedule for vegan babies ages 4 to 12 months, diet plans for vegan children ages 1 through 13, a list of choking risks, meal planning ideas, and much more.
Quantities of these brochures are available upon request. We simply ask for a donation to help defer the costs of printing and shipping. Please send your request to The Vegetarian Resource Group, P.O. Box 1463, Baltimore, MD 21203. You may also contact The VRG at (410) 366-8343 or via e-mail at vrg@vrg.org.
You can also read this brochure online.
---