Book Reviews
Paakam: Everyday Indian for a Vegetarian Lifestyle
By Anu J. Canumalla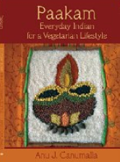 I love Indian cuisine, so reviewing this vegan-friendly cookbook was a pleasure. Paakam offers a wide array of dishes from salads, appetizers, vegetable dishes, and bean dishes to Indian breads, rice dishes, chutneys, and relishes.
Aloo Tikkis are potato patties made with numerous spices, onions, and bread crumbs. Aloo Methi is a potato dish flavored with fenugreek leaves and spices. The Mushroom Peas Curry uses ground almonds and sesame seeds in the gravy. Khatta Masoors are lentils simmered in a spicy onion and tomato sauce. Spinach Kootu is spinach and coconut cooked with mung beans, but you can substitute other greens in this dish. The Mint Pulao is a rice dish flavored with onions, pistachios, and spices.
A few recipes contain yogurt, but you can easily substitute plain soy yogurt. Also, tofu cubes can be used instead of the cubes of cheese that appear in a handful of dishes. Occasionally, milk is used, but soymilk can be substituted. Unfortunately, the desserts are milk-based.
I especially like that the author clearly describes common Indian vegetables and spices. The color photos throughout this book are also very helpful. In addition, nutritional analyses are offered. Beware that some dishes are high in fat; however, if small portions are served with plenty of rice, the overall fat content will decrease.
Paakam: Everyday Indian for a Vegetarian Lifestyle (ISBN 978-1-4389- 1392-6) is published by AuthorHouse. The book retails for $29.60. Purchase this book online or in a local bookstore. Reviewed by Debra Wasserman. Click here to purchase a copy
Local Bounty
By Devra Gartenstein

More and more people are trying to eat locally grown food in season. Local Bounty serves up a wide array of vegan dishes using seasonal produce. In fact, the book is divided into four sections representing each season of the year.
In spring, you can sample dishes such as Asparagus with Mustard-Dill Sauce and Strawberry- Rhubarb Tart. During the summer months, try Fennel and Arugula Pesto, Armenian Stewed Eggplant, and Israeli Couscous with Fresh Fava Beans.
When fall arrives, cook up Roasted Pumpkin Seeds, Caribbean Pumpkin-Coconut Soup, Braised Carrots with Cranberries, and Acorn Squash and Wild Rice Patties. Finally, in winter months, you can prepare Portuguese Kale and White Bean Soup, Gold Beets with Leeks and Chives, Braised Turnips, and Apple Crisp.
Most of the recipes in this book are easy to prepare and use commonly found ingredients. Nutritional analyses are not provided; however, most dishes do not appear to be high in fat.
Local Bounty (ISBN 978-1-57067- 219-4) is published by Book Publishing Company and retails for $17.95. Order this book online or locate it in a bookstore. Reviewed by Debra Wasserman. Click here to purchase a copy
Skinny Bitch: Bun in the Oven
By Rory Freedman and Kim Barnouin
In Skinny Bitch: Bun in the Oven, Rory Friedman and Kim Barnouin use their inimitable style to promote a healthy vegan diet during pregnancy. While denying that they are "doctors, research scientists, or anything of the sort," they have put together a smart, thorough guide to how to eat vegan when you're pregnant.
Their recommendations focus on whole vegan foods, and they pay appropriate attention to key nutrients like vitamin B12, vitamin D, and DHA. They also have suggestions for breastfeeding, common pregnancy and postpregnancy concerns, and beauty products to avoid.
Unlike other books by these authors, this is not a weight loss book. As they say, "This is no time to be concerned about your figure." This could be a useful gift for pregnant or contemplating friends, whether vegan or not.
Skinny Bitch: Bun in the Oven (ISBN 978-0-7624-3105-2) is published by Running Press. It has 336 pages and retails for $14.95. Reviewed by Reed Mangels, PhD, RD. Click here to purchase a copy
Dakota
By Martha Grimes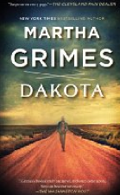 Martha Grimes has been a vegetarian for more than 30 years, and her latest suspense novel, Dakota, focuses on animal abuse at a pig factory farm and a slaughterhouse.
This book keeps your interest from start to finish. The main character, Andi Oliver, suffers from amnesia and somehow ends up in Kingdom, North Dakota. The moment she arrives, Andi comes upon a case of animal abuse and feels she must do something. She also continually points out the inconsistency of eating animals when individuals say they care for the welfare of animals.
Dakota creatively emphasizes the need for individuals to speak out against factory farms. Nonvegetarians reading this book will learn much about the realities of pig farming in the USA. Donate this book to your local library!
Dakota (ISBN 978-0-451-22589-4) is published by New American Library. Order this book online or locate it in a bookstore. Reviewed by Debra Wasserman. Click here to purchase a copy
The Tropical Vegan Kitchen
By Donna Klein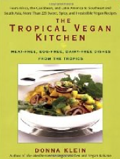 The minute I saw the title of this book, I became quite hungry! After all, the tropics offer us a wide variety of vegan foods, including exotic fruits, vegetables, and spices. The Tropical Vegan Kitchen features dishes from regions such as Africa, Asia, the Caribbean, Central and South America, and parts of the Middle East.
Among the appetizers and snacks you'll find Thai-Style Glazed Cashews (sweet yet spicy), Caribbean Spiced Popcorn, and Mexican-Spiced Mini Pretzels. Soups include Cambodian Tomato Soup, African Curried Coconut Soup with Chickpeas, and Vietnamese Noodle Soup. You can also try a Peruvian Lima Bean and Red Radish Salad or Brazilian Palm and Tomato Salad.
Main dishes include Indian Black-Barley Pilaf with Bananas and Oranges, Philippine-Style Eggplant in Coconut Cream over Rice, and Malaysian Hot-and- Sour Noodles with Tofu and Baby Bok Choy. Finally, you won't want to miss the scrumptious desserts, including Java-Almond Fudge, and Pumpkin Empanadas.
The Tropical Vegan Kitchen (ISBN 978-55788-544-9) is published by Penguin Group. Order this book online or purchase it from your local bookstore. Reviewed by Debra Wasserman. Click here to purchase a copy
How to Eat Like a Vegetarian
By Carol J. Adams and Patti Breitman

In the introduction to How to Eat Like a Vegetarian, the authors state that their reason for writing this book is that their friends kept telling them, "We would become vegetarian if you cooked for us." Both writers have been vegetarian for a combined 50-plus years and share numerous helpful ideas, simple recipes, menus, and advice born from experience.
Some interesting sections in this book include "Ten Ways to Eat More Vegetables," "Ten Different Things You Can Do with Chickpeas," and "Steddas," which has recipes substituting for dishes that ordinarily contain animal products. Here you'll find recipes for Tofu Cottage Cheese, Cheezy Sauce, and more. Finally, "Vegetarian Cooking Without Recipes" offers numerous suggestions for non-cooks and busy people.
How to Eat Like a Vegetarian (ISBN 978-1-59056-137-9) is published by Lantern Books. You can purchase this book online or in a local bookstore. Reviewed by Debra Wasserman. Click here to purchase a copy
Vegan Soul Kitchen
By Bryant Terry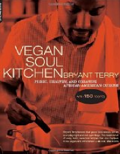 This book offers some mouth-watering variations on traditional soul cuisine. Among its unique recipes are Cajun-Creole-Spiced Tempeh Pieces with Creamy Grits, Black-Eyed Pea Fritters with Hot Pepper Sauce, Sweet Coconut- Ginger Creamed Corn, and Smoky Pickled Purple Okra. And don't forget dessert! There's a Chocolate- Pecan Pudding Pie as well as a Spiced Peach Cobbler with Dried Cranberries. Both black-and-white and color photos are included.
Vegan Soul Kitchen (ISBN 978-0-7382- 1228-9) is published by De Capo Press. Order this book from VRG for $23 (includes postage). Reviewed by Debra Wasserman. Click here to purchase a copy