Looking for Passover Recipes?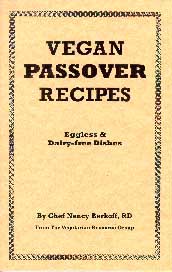 The VRG offers a 48-page booklet called Vegan Passover Recipes by Chef Nancy Berkoff, RD. It gives instructions for more than 35 creative dairy- and egg-free recipes, including soups, salads, side dishes, sauces, entrées, desserts, and even several microwave recipes, such as Pizza Casserole and Spinach/Mushroom Kugel. All recipes follow Ashkenazi Jewish traditions and are pareve. To order Vegan Passover Recipes, send $10 (includes postage and handling) to VRG, P.O. Box 1463, Baltimore, MD 21203; call (410) 366-8343; or visit www.vrg.org/catalog. Here's just one example of the delicious recipes within the book's pages:
'CREAM' OF ASPARAGUS OR BROCCOLI SOUP
(Serves 4-5)
People will be amazed and delighted with this non-dairy, lowfat 'cream' soup.
2 cups fresh or thawed frozen asparagus spears or broccoli florets
½ cup finely chopped onions
1 cup vegetable stock
1 cup peeled and boiled white potatoes, mashed (or leftover mashed potatoes)
½ teaspoon white pepper
Microwave asparagus or broccoli and onions for 3 minutes or steam for 8 minutes until very soft. Retain any liquid (about ¼ cup). In a blender, combine cooked vegetables, stock, potatoes, and pepper. Process until puréed. Place in a medium pot and allow soup to simmer, covered, for 5 minutes. Serve hot, garnished with additional chopped steamed asparagus or broccoli.