Book Reviews
The 30-Minute Vegan's Taste of the East
By Mark Reinfeld and Jennifer Murray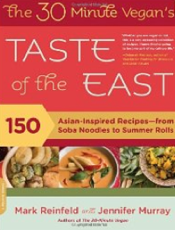 The authors of The 30-Minute Vegan have published a follow-up to that popular cookbook. Their new Taste of the East includes 150 Asian-inspired recipes that can be prepared in less than half an hour.
Part I introduces dishes from India, including Samosas, Tempeh Vegetable Korma, Tamarind Sweet Potatoes, Mango Lassi, and more. Part II features tasty cuisine from Thailand, such as Green Papaya Salad, Thai Basil Eggplant, Red Curry, and Coconut Ice Cream. Part III serves up Chinese dishes like Hot and Sour Soup, Spinach Tofu Dumplings, Bok Choy with Five-Spice Cashews, and Seitan and Broccoli. Part IV is all about Japanese dishes, including Nori Rice Balls, Wakame and Cucumber Salad, Pan-Seared Shiitake Udon Bowl, and Teriyaki Tofu. Finally, Part V consists of Asian fusion dishes, such as Coconut Mashed Parsnips, Indonesian Coconut Tempeh, Korean BBQ Tofu, and Tibetan Noodle Soup.
Chef's tips and tricks are sprinkled throughout this cookbook. Nutritional analyses are not provided, but most of the recipes do not appear to be high in fat.
The 30-Minute Vegan's Taste of the East (ISBN 978-0-7382-1382-8) is published by Da Capo Press and retails for $18.95. Purchase it online or in your local bookstore. Reviewed by Debra Wasserman.
The Vegetarian Diet for Kidney Disease
By Joan Brookhyser Hogan, RD
At one time, people with kidney disease were discouraged from following a vegetarian diet. It's very different today. Vegetarian diets can be used by people with chronic kidney disease and are recommended as a possible treatment. That's because vegetarian diets can slow kidney disease progression and help to manage other diseases, such as diabetes and high blood pressure, that can lead to kidney damage. Even those who are not vegetarian can benefit from a more plant-based diet.
Joan Brookhyser Hogan, a registered dietitian and specialist in renal nutrition, has written a comprehensive guide to vegetarian diets for people with kidney disease. Her clear, credible presentation dispels some myths, including the need for so-called 'quality protein.' Hogan uses brief stories from her clients to illustrate how helpful a vegetarian diet can be. She also includes meal plans and recipes developed to meet needs of different stages of kidney disease. All meal plans and recipes are vegetarian; many are vegan. This is an important, potentially life-changing book for those with chronic kidney disease.
The Vegetarian Diet for Kidney Disease (ISBN 978-1-59120-266-0) is published by Basic Health Publications, Inc. It has 152 pages and retails for $14.95. Reviewed by Reed Mangels, PhD, RD.
The 4-Ingredient Vegan
By Maribeth Abrams with Anne Dinshah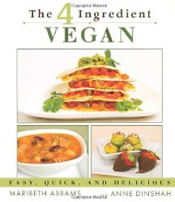 Some cooks are intimidated by recipes with a long list of ingredients. Now, there's a cookbook that meets their needs. The 4-Ingredient Vegan includes recipes with only four main ingredients, plus herbs, spices, water or broth, oil, and similar flavor enhancers.
For example, the Morning Meals section includes Cashew French Toast made from nondairy milk, cashews, oats, and whole-grain bread, as well as a Baked Bean and Tater Casserole that contains only baked beans, tater tots, and your choice of veggies. The Fiesta Rice Salad consists of brown rice, corn, black beans, and cilantro salsa. The Baked Artichoke Dip calls for spinach, artichoke hearts, vegan mayonnaise, and garlic, while the Hazelnut-Yam Pâté includes hazelnuts, mashed yams, chickpeas, and light miso.
Other options include the Mediterranean Penne, which requires penne, vegan mayonnaise, tahini, and capers. The Stuffed Bell Peppers consist of brown rice, bell peppers, vegan chili, and salsa. And for dessert, try the Pear-fect Strudel, with Bartlett pears, dried apricots, pumpkin pie spice, and phyllo dough.
The 4-Ingredient Vegan (ISBN 978-1-57067-232-3) is published by the Book Publishing Company and can be ordered from The Vegetarian Resource Group for $19 (including postage and handling). Reviewed by Debra Wasserman.
One Magic Square
By Lolo Houbein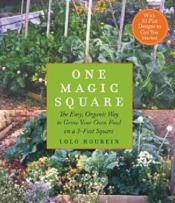 With the price of food continuing to rise, more and more people are interested in growing produce in their own backyard. Now, there's a terrific book called One Magic Square: The Easy, Organic Way to Grow Your Own Food on a 3-Foot Square that shows you how to cultivate crops efficiently in even the smallest yard.
This volume begins with a basic introduction to organic gardening, including soil secrets, composting guidance, intercropping tips, watering and mulching details, information about dealing with weeds and pruning, crop rotation instructions, and much more. You'll also learn about choosing the correct plants for your region's climate and how to save seeds.
Next, you'll find a section offering numerous suggestions about what to grow in your square garden box. Ideas include making salad plots and gardens with themes such as the curry plot, the stir-fry plot, and the pasta/pizza plot. There's also the soup plot, the herb plot, and many others. Finally, there's a terrific section discussing common fruits, vegetables, and herbs and information about how to grow and use them.
Please note that, although this book is very vegan-friendly, not all the information is totally vegan.
One Magic Square (ISBN 978-1-61519-012-6) is published by The Experiment. Order this book online at http://astore.amazon.com/httpwwwvrgorg-20/detail/1615190120 or purchase it in your local bookstore. Reviewed by Debra Wasserman.
Veggie Power Burgers
By Cathy Gallagher and Barbara Schugt
Occasionally, I'll hear people say they don't like any of the veggie burgers sold in supermarkets. Veggie Power Burgers was probably written just for them!
The book serves up a wide range of burger recipes, many with an international twist. Try the Brazilian Cashew Burgers, African Millet Burgers, Inca Quinoa Burgers, Indonesian Tempeh-Walnut Burgers, and Peruvian Sweet Potato Burgers. The volume also has recipes for sauces like Cucumber/Apple Relish and Green Mint-Chili Salsa.
Most of the recipes in this book are vegan, and the few that are not can easily be made vegan. In a few cases, honey is used, but agave can be substituted. Also, soy yogurt and sour cream can replace the dairy versions.
Veggie Power Burgers (ISBN 978-0-615-20823-7) is published by BC Art Group, Inc. This book retails for $15. It can be purchased at www.veggiepowerburgers.com. Reviewed by Debra Wasserman.
The Urban Vegan
By Dynise Balcavage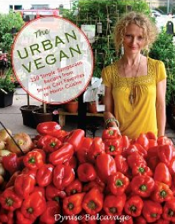 Dynise Balcavage's newest book has more than 250 creative vegan recipes, ranging from street fare to gourmet offerings. Some of the more interesting recipes include Pecan Streusel Coffee Cake, Curried Wheat Berry-Spelt Salad, and Savory French Terrine. Other unique choices are Millet-Crusted Mushroom-Leek Pie, Seitan Steaks with Tarragon-Mustard Sauce, and Peanut Brittle.
In addition, this book features useful icons that quickly tell you if a recipe is kid-friendly, quick and-easy, lowfat, or inexpensive.
The Urban Vegan (ISBN 978-0-7627-5281-2) is published by ThreeForks. Order this book online at http://astore.amazon.com/httpwwwvrgorg-20/detail/B0030IM160 or purchase it in your local bookstore. Reviewed by Debra Wasserman.
The Vegetarian Shabbat Cookbook
By Roberta Kalechofsky and Roberta Schiff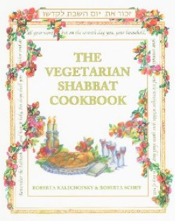 Jewish vegetarians and those that simply enjoy vegan dishes will want to purchase The Vegetarian Shabbat Cookbook. Traditionally, Shabbat meals are prepared before sundown on Friday evening and are consumed through Saturday afternoon. The recipes in this cookbook easily can be made ahead of time and eaten later.
Among the mouthwatering options are Baked Apple Cider Doughnuts, Indian Sweet Corn Soup, Baked Southern Fried Tofu, Linguini with Moroccan Lentil Sauce, Quinoa Puttanesca, Eggless Challah (bread), and Cinnamon Maple Pear Crumble.
The Vegetarian Shabbat Cookbook (ISBN 978-0-916288-56-3) is 242 pages. It retails for $26 and can be purchased online at www.micahbooks.com. Reviewed by Debra Wasserman.